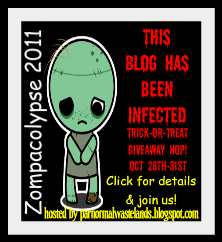 Hello
Tricksters
and Treaters *yepp that is a word as of now* are you all ready for the
Zompacolypse
?? What is the
Zompacolypse
you say... well let me tell you my friends :) The awesome hosts over at Paranormal Wastelands blog are hosting this amazing
BLOG GIVEAWAY HOP
!!!
There will be loads of great prizes to be had at each stop! So make sure you hop on over to all the stops and sign up for them all :) What a
Treat right
? And what
SupaGurl
do you have for us on this stop you ask??? well, maybe some .....
BBBBBRRRRRAAAAIIIIINNNNNSSSS *
bonus stop
*Click on the candy bucket for an extra Giveaway!
Well ok beside the Awesome...Amazing tasting
Brains
I also have up for grabs
1. A Singed Hardback copy of
Blood Red Road
by Moira Young
2. Paperback copy of
Beautiful Dead
by Jonas
3. Signed bookmarks for the upcoming AMAZING
Eternal Starling
by Angela Corbett (x4)
**Make sure you visit the other Blogs on the Hop**
Linky is after Raffle Copter form
Ok you crazy hoppers here is what you do.... Fill out the Raffle Copter form below,
Be a follower
, and spreading the word gets you extra entries!!
Hop runs from Oct. 28th - Oct. 31st